Uniform Revenue Protection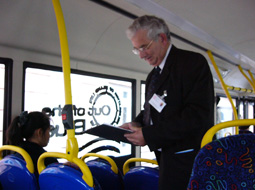 It does not matter if you are a large or small operator; revenue protection is an all important part of your business. Over the years it has been easy for operators to make savings by withdrawing the traditional Inspector or find them other jobs of equal importance.
Our Uniformed Revenue Protection service is aimed at all size operators whether their own staff are in existence or not as we are able to work alongside your staff if required. The benefit of using Bestchart is that you can rely on us as required, either for special projects and targeted areas or routes. If you do not have your own inspectors then we can visit at regular intervals to show a presence and help you maximise your revenue.
All staff are dressed smartly in a uniform and can wear items of your uniform (e.g. ties) if required.